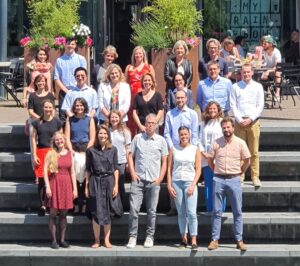 On June 15 and 16, 2022, the eleven partners within the AURORA project met for a hybrid consortium meeting both in person in Utrecht, the Netherlands and online to update each other on the progress made over the last year. Representatives of each of the seven work packages presented their progress, the challenges they have come across, and decisions taken on experimental setups as well as the first preliminary results of their research.
Significant steps forward have been made by our scientists in developing and standardizing the methods needed to systematically characterize large numbers of MNPs in complex samples as well as in identifying the most relevant MNP types to include in upcoming exposure and toxicity tests. The partners further outlined next steps and priorities planned for the coming months. They also shared open questions and proposals about cross-cutting issues between different work packages and project laboratories.
Following each of the presentations, all meeting participants discussed options to address current challenges and coordinated the needed cooperation between different project partners. In addition, early career scientists within AURORA were given the opportunity to present themselves and their research focus within the project. Moreover, synergies with POLYRISK, which is also a member of CUSP – the European research cluster to understand the health impacts of MNPs, were discussed to better combine research efforts and share current outcomes.
You can learn more about the experts involved in AURORA on our team page as well as follow the latest updates on the project's research via our news page and through our LinkedIn and Twitter pages. The next AURORA consortium meeting is planned to take place in fall 2022 in virtual form, followed by the next in-person consortium meeting in spring 2023.