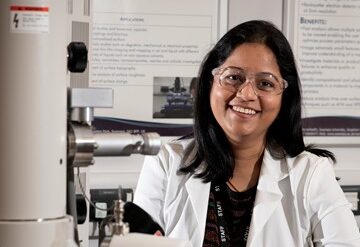 Institute of Occupational Medicine
Anitha Devadoss is the Senior Aerosol Scientist at IOM within the SAFENANO team. Anitha's research focus is to develop Aerosol Risks Diagnosis and Intervention platform to investigate the pathways of nanomaterials mediated aerosol risks to human health & environment and develop new indicator materials and analysis methods for occupational disease diagnosis and intervention. She is particularly keen to explore and assess the aerosol induced health risks (dermatitis, asthma, lung diseases, and cancer) and smarten the disease diagnosis pathways via developing/adapting innovative technologies, and standardizing the diagnostics methods.
Anitha is a PhD graduate in Chemical Sciences from Biomedical Diagnostics Institute, Dublin City University, Ireland (2008-2011). Following that she had international post-doctoral research experience in South Korea (2011-2013), Japan (2014-2015) and UK (2015-2017). She was a Ser Cymru II MSCA COFUND Fellow at Swansea University which was jointly funded by European Commission and Welsh Government under ERDF (2017-2021) to establish her independent research team. Anitha has over 10 years of research expertise in nanomaterials synthesis & analysis, innovative nanobiosensors development, advanced healthcare technologies, and point-of-care diagnostics. Anitha has developed various proof-of-concept sensors (enzymatic, non-enzymatic and immunosensors) for the detection of various analytes such as glucose, H2O2, glutathione, proteins. Past research projects as PI and Co-I includes the development of graphene based sensors for the point-of-care diagnosis of Cancer, Hepatitis, and Dementia, funded by the European Commission, Welsh Government, EPSRC and Innovate UK.